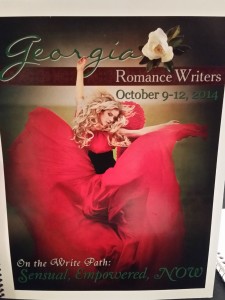 This past weekend, I hopped on a plane bound for Hotlanta for the Moonlight and Magnolias conference. (Okay, that's simplifying it a bit. There was TSA to deal with. Not to mention the luggage. There wasn't a whole lot of hopping involved. More like a lot of waiting. And overpriced airport food.)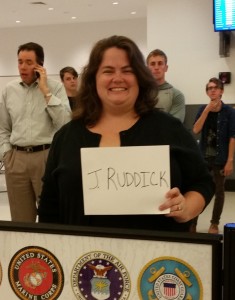 I was greeted at the airport by the amazing Kristi Ann Hunter, my fellow Dreamweaver sister who won the Golden Heart for inspirational romance. We hadn't met in person before, but it only took a few minutes to realize we'd be fast friends. The cake helped. There wa
s lots of cake involved. I'm talking chocolate cake, brownie-cheesecake, lemon cake…if it was cake (or pie) we pretty much ate it. So yeah, it would be fair to say we bonded over cake.
I learned a coo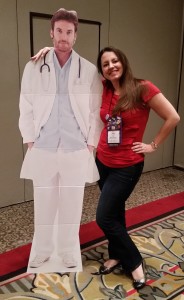 l promo trick in Susan Carlisle's workshop: get a life sized cardboard cut-out of the hero from your book. The heroes in both of my books (Luke from Letting Go and Cole from Birthright) are both swoon-worthy if I do say so myself. Would I like to see them lifesize? Um, yes, please! The cutouts definitely attract attention. Plus they create fun photo ops.
The highlight of the weekend was definitely the Maggie award ceremony. SPOILER ALERT: I won! Birthright won! I absolutely love that book, and I'm thrilled that others must have liked it, too.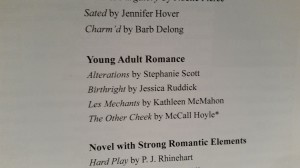 My category was rounded out by some fabulous writers, including my good friend and Dauntless Dreamweaver sister, McCall Hoyle. Stephanie Scott is another gal pal of mine: we both currently serve on the YARWA board.
It was a whirlwind trip, but well worth it. In two days, I set off for New Jersey and the Put Your Heart in a Book conference to see how Birthright fared in that contest. I'll be joined there by my lovely agent, Sarah, and several of my Dreamweaver sisters.
The following weekend? Lots of napping.