I'm super excited to share the cover for Undefined! This is the first book in The Elemental Saga, and it releases October 22.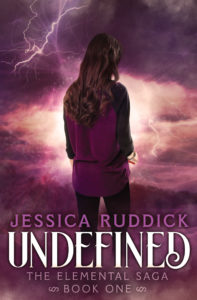 The truth about her past may define her future.
Sophie loves being an elemental. Being able to bend the natural world to her will is thrilling, even if the need for secrecy is putting a cramp in her dating life. Lately, though, her powers have been growing, making it difficult to resist the heady temptation to use her gifts.
Trying to balance the elemental world with having a normal life is tough enough without her overbearing, way-too-perfect, and way-too-good-looking guardian Aidan watching—and judging—her every move. The trouble is she's not sure where she fits in and she's sure as heck not ready to conform to stringent elemental rules.
But when secrets about her life are revealed and outside forces threaten everything Sophie holds dear, she must embrace who she is or risk losing it all.