Welcome to the Spring 2018 Scavenger Hunt!
I'm Jessica, your hostess for this part of the hunt, and I'm super glad you're here. I hope you'll take a moment to look around.
And I'm especially thrilled to be part of TEAM PURPLE, because if you haven't noticed, I kind of have a thing for purple.
SCAVENGER HUNT PUZZLE
Directions: Below, you'll notice that I've hidden my favorite number. Collect the favorite numbers of all the authors on TEAM PURPLE, and then add them up (don't worry, you can use a calculator!).
Entry Form: Once you've added up all the numbers, make sure you fill out the form here to officially qualify for the grand prize. Only entries that have the correct number will qualify.
Rules: Open internationally, anyone below the age of 18 should have a parent or guardian's permission to enter. To be eligible for the grand prize, you must submit the completed entry form by Sunday, April 8th at noon Pacific time. Entries sent without the correct number or without contact information will not be considered.
Go to the YA Scavenger Hunt page to find out all about the hunt. There are six contests going on simultaneously, and you can enter one or all! I am a part of the PURPLE TEAM–but there is also a red team, a gold team, a blue team, a green team, and a pink team for a chance to win a whole different set of books!
If you'd like to find out more about the hunt, see links to all the authors participating, and see the full list of prizes up for grabs, go to the YA Scavenger Hunt page.
SCAVENGER HUNT POST
Today, I am hosting Eric Lindstrom on my website for the YA Scavenger Hunt!
Eric Lindstrom enjoys writing young adult novels, including his debut novel NOT IF I SEE YOU FIRST followed by A TRAGIC KIND OF WONDERFUL. He also raised children, which led to becoming first a school volunteer, then a substitute teacher, then a part time kindergarten teacher, then getting a credential to teach elementary school, and most importantly the discovery that young adult books are awesome. It's pretty much all he ever reads, and now writes, in his house near the beach on the west coast, with his wife and, yes, cats.
Find out more information by checking out the author's website or find more about the author's book here!
For sixteen-year-old Mel Hannigan, bipolar disorder makes life unpredictable. Her latest struggle is balancing her growing feelings in a new relationship with her instinct to conceal her diagnosis by keeping everyone at arm's length. But when a former friend confronts Mel with the truth about the way their relationship ended, deeply buried secrets threaten to come out and upend her shaky equilibrium. As the walls of Mel's compartmentalized world crumble, she fears the worst—that no one will accept her if they discover what she's been hiding. But would her friends really abandon her if they learned the truth? More importantly, can Mel bring herself to risk everything to find out?
EXCLUSIVE CONTENT FROM ERIC: 
In A TRAGIC KIND OF WONDERFUL, Mel Hannigan works after school at The Silver Sands, a retirement home. She used to visit her grandmother there, but she got to know everyone else so when her grandmother died, Mel kept visiting, and then they hired her: Officially I'm just a gofer—here to fetch things, clean up messes, do odd jobs—but Judith says she mostly pays me for what she calls "Mel's Magic." She doesn't say what this means but I think it's about me being everyone's granddaughter who visits almost every day.
In my early drafts, more residents of The Silver Sands were included, but it got to be too much and I needed to simplify. The characters I miss the most are two sisters, Mrs. Paige and Mrs. Paige. It wasn't explained until later in the book why they were sisters with the same married name. Here below are two removed sections featuring these no-longer-mentioned characters of Mel's world:
---
     I notice the magazine rack looks especially jumbled so I busy myself organizing it. While I'm down there I see spilled coffee. I get a sponge, paper towels, and some water to clean it up. Mrs. Paige blames it on the younger Mrs. Paige, who insists she's only had tea this afternoon, and Mrs. Paige says it's from this morning and thanks me for cleaning up after her younger sister. I think the elder Mrs. Paige is extra nice to me when I don't sing with Mr. Terrance Knight, as part of some subtle psychological game to reward me for not insulting her ears.
     After an hour of bustling I can't think of anything else to tidy up. I help Ms. Arguello ball up some skeins of yarn and listen to her talk about her grandson's new job. Then it's dice with the Mrs. Paige sisters, smiling at their tireless complaints about the state of Florida. Despite never seeing it in person, they know it's a hellhole of heat and humidity, infested with cockroaches and crocodiles, controlled by drug dealers, and serves as the number one pilgrimage destination for degenerates. It would be baffling to anyone who didn't know they're really making fun of a certain someone who moved there decades ago….
….
     David sits by me. I want to analyze the distance he chose—at least a foot away—but then he pivots to face me. He was leaving room for his leg and now his knee is an inch from my thigh.
     He says, "What's with those two women called Mrs. Paige?"
     "They're sisters."
     "I got that much, but how are they both Mrs. and still have the same last name? Were they ahead of their time and didn't take their husbands' names?"
     "No, they took his name." I smile. "They married the same guy."
     "Hmmm…that was either ahead of their time or very behind the times."
     "Different times. Mr. Paige divorced the elder Mrs. Paige to marry the younger. I hear it was quite the scandal. They say they didn't speak for over a decade, but they've been patched up for years. Now they enjoy having the same name again like when they were kids, only now it's like a survivor's scar they're proud of. One of their favorite sports is making fun of Mr. Paige and his Florida condo and all the crap his current wife must be putting up with."
     Am I talking too much? Maybe he didn't really care to know all this.
     "What about Mr. Terrance Knight?"
     Maybe he does want to know….
---
The Mrs. Paige sisters were in other scenes as well, but these are the ones distinctly theirs and not incorporated into other characters. And it may sound strange, but despite the Mrs. Paige sisters not being in the published novel, they are still living in The Silver Sands in my head…  🙂
---
IT'S JESSICA AGAIN:  
Don't forget to enter the contest for a chance to win a ton of books by me, Eric Lindstrom, and more! To enter, you need to know that my favorite number is 24.
Add up all the favorite numbers of the authors on the purple team and you'll have all the secret code to enter for the grand prize!
CONTINUE THE HUNT
To keep going on your quest for the hunt, you need to check out the next author! So head on over and visit Gina Ciocca!
But first, check out the first book in The Legacy Series, which is currently FREE on all retailers!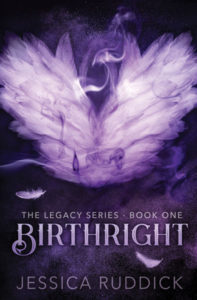 WAIT…there's more! Enter below for your chance to win a signed paperback copy of The Problem with Forever by Jennifer L. Armentrout.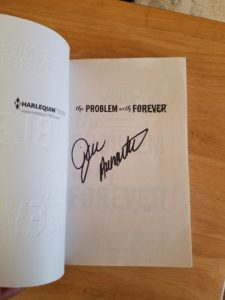 In addition to being a YA writer, I'm an avid YA reader who's always looking for the next great book to read. What fantastic YA book have you read recently? Comment below!