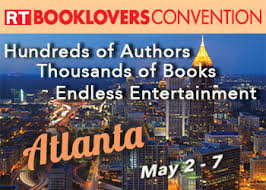 I will be at RT this year! I'd love to meet some readers, so if you're there, please find me and say hi.
Here's where you can find me:
Tuesday, 9:30 pm – YA Spooky Slumber Party
Wednesday, 12:15 – Get to All the Feels Quicker (Writing Workshop)
Wednesday, 1:30 – YA Book-tionary
Wednesday, 2:45 – Beach Blanket Bingo
Friday, 11:15 – Entangled Candy & Spoons
Saturday, 11:00 – Giant Book Fair Signing
Sunday, 10:00 – RT Roundup Meet & Greet
I hope to see some of you there! It would be great to meet you.