Obviously, it wasn't blogging! LOL!
I kept super busy this summer, spending most of my time writing. I wrote one and a half books! In fact, I just sent the completed one off to my editor this morning. I'm impressed with myself considering I also had my two boys (ages five and eight) home with me.
My big activity this summer was going to New York City for the first time for the annual RWA conference. I went a few days early to sightsee, and let me tell you—it was hot. Too hot. The temperature spiked ten degrees just for those few days I was out and about. Just my luck, right? Still, I had a great time. Did I see the Statue of Liberty, you ask? Or maybe the Empire State Building? How about Rockefeller Center? Nope. Our hotel was in Times Square, so I stuck pretty close to there, and luckily one of the number one things on my list to see was only a few blocks away—Madame Tussauds wax museum.
Yeah. I'm a classy girl.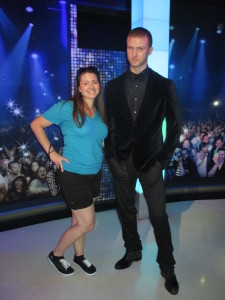 Seriously, though, when I studied abroad in London, I wanted to go and no one would go with me! So I was determined to see the one in New York, even if I had to go by myself. It was a lot of silly fun, the best kind.
I also lucked out, and there was a Hunger Games exhibition just a block from my hotel. I was able to see the actual costumes the actors wore in the movies. It was amazing. I could have stayed there for days, just examining every little aspect of the costumes on display. For a YA writer, it doesn't get much better than this. I can only hope to one day create characters and a world that resonates with so many people.
I did do one cultural thing—visited the Museum of Modern Art. This has also been on my bucket list since my study abroad trip. My ignorant twenty-year-old self looked all over the Louvre for Van Gogh's Starry Night. And where is it? You guessed it—NYC! It was just as gorgeous in person as I knew it would be.
Of course, the best part of the trip was the conference itself. (Or maybe the cheesecake. Junior's was right across the street, and my life will never be the same. Neither will by butt. That cheesecake is mouthwatering, but it clings.) Writing is such a strange profession. My co-workers and best friends are scattered all over the country (and some in other countries), and this is the one time of year I get to see everyone in person. I think I only made it to two and half workshops, but I still left feeling recharged and rejuvenated. (Hence, the subsequent 1.5 books I wrote.)
The conference was at the end of July, so I spent most of August in front of my computer and making PB&Js for my sons. (Who am I kidding? Myself, too.) The one cool thing did I was see Idina Menzel in concert. She was completely amazing. I didn't know a lot of the songs, but I still could have listened to her sing all night.
I also managed to squeeze in a few trips to Busch Gardens with my boys. That place is the best.
Oh, and I spent a lot of time with these two goofballs.
Today actually marks my first official day as a full-time writer, and it's these two's job to keep me company. I think they're up to the challenge.
As am I. I'm so excited to begin this next phase in my life. Virtual cheers!