Today is an uber exciting day! I get to reveal not one, but TWO covers for fabulous novels that are releasing soon. Without further ado, here we go!
Hidden Deep (Book 1 of the Hidden Trilogy)
by Amy Patrick
Release Date: 03/23/15
Summary from Goodreads:
Give in to the Glamour…
 Sixteen-year-old Ryann Carroll has just run into the guy who saved her life ten years ago. You might think she'd be happy to see him again. Not exactly. She's a bit underdressed (as in skinny-dipping) and he's not supposed to exist.
After her father's affair, all Ryann wants is to escape the family implosion fallout and find a little peace. She also wouldn't mind a first date that didn't suck, but she's determined not to end up like her mom: vulnerable, betrayed, destroyed. Ryann's recently moved back to her childhood home in rural Mississippi, the same place where ten years earlier she became lost in the woods overnight and nearly died.
She's still irresistibly drawn to those woods. There she encounters the boy who kept her from freezing to death that long ago winter night and was nowhere to be seen when rescuers arrived. He's still mysterious, but now all grown-up and gorgeous, too. And the more she's with him, the greater the threat he poses to Ryann's strict policy– never want someone more than he wants you.
Seventeen-year-old Lad knows the law of his people all too well: Don't get careless and Don't get caught. It's allowed his race to live undetected in this world for thousands of years, mentioned only in flawed and fading folklore…
Lad's never been able to forget about Ryann since that night ten years ago. When he sees her again, his fascination re-ignites and becomes a growing desire that tempts him to break all the rules. He's not even supposed to talk to a human, much less fall in love with one.
And the timing is atrocious. The Assemblage is coming, the rift between the Light and Dark is widening, and mysterious celebrity fan pods are becoming more and more widespread and influential. Lad may have to trade his own chance at happiness to keep the humans, especially Ryann, blissfully unaware and safe.
https://www.goodreads.com/book/show/24686734-hidden-deep–book-1-of-the-hidden-trilogy
About the Author
Amy Patrick is a two-time Golden Heart finalist (2013 and 2014) who writes Contemporary Romance and Young Adult fantasy/paranormal. Her books have won and finaled in many RWA chapter contests, and she is the author of the 20 SOMETHING series. She lives in Rhode Island with her husband and two sons and actually craves the heat and humidity of Mississippi, where she grew up. She's been a professional singer and news anchor and currently narrates audio books as well as working as a station host for a Boston TV station.
Author Links:
Website │Twitter │ Facebook │ Goodreads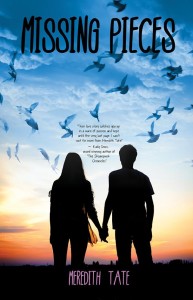 "Your family is the most important part of your life. Your families are the people you love, and love is what separates us from scoundrels and criminals. It maintains order. Your parents, your sibling, and your Partner are the ones you love. There should never, ever, be anyone else who comes close to that bond. You have only one best friend, and that is the person you'll be marrying some day. We must learn to differentiate the relationships in our lives: the people we love, and the ones we don't. It's inappropriate, it's foolish, and it's forbidden to think otherwise."
Trace Bailey's mouth is her worst enemy—somehow it always gets her in trouble. Luckily, she has a partner in crime—her best friend and neighbor since age seven, Piren Allston. He can't get enough of her crazy sense of humor, and she loves that he's always up for another adventure.
They can't be friends, though, not in their world. Trace and Piren were Assigned to other people at the age of six, and they're supposed to marry their Partners when they turn twenty-four. Failure to comply leads to Banishment, a fate worse than death.
Worse still is the growing realization that their bond is stronger than just friendship.
In a world without freedom, there are still choices to be made. Following their hearts means losing their family, but following the law means losing each other.
A proud New Hampshire native, Meredith Tate lives in St. Louis with her husband. She loves reading and writing in all genres, but has a soft spot for dark young adult and new adult speculative fiction. Meredith has a master's degree in social work from the University of New Hampshire. She is a contributor to the St. Louis Writer's Guild's "Write Pack Radio Show" every Sunday afternoon. When she's not writing, Meredith enjoys traveling, playing the piano, befriending wild geese, and spending time with family and friends. Much like her characters, she's always up for another adventure.
Website: http://meredithtate.com/
Twitter: https://twitter.com/mltate24
Facebook: https://www.facebook.com/authormeredithtate