Just a quick post today—
I met a few more of my favorite authors at the big book signing here at RT.
Kelley Armstrong is the NYT bestselling author of the Women of the Underworld series, which is complete at 13 books. There are also various short stories that go along with the series. She also has two YA trilogies that are set in the same world. She is a fantastic writer, and I was so happy to be able to see her. I actually met her at the RWA book signing in 2009, and she was the first author I'd ever met in person.  Back then, she asked me if I was a writer and how my writing was going. I said, "not well," and slunk away. This time, I made sure to tell her about my recent success!
Jeaniene Frost is the NYT bestselling author of the Night Huntress series. I was only able to chat with her for a few minutes since she had a line, but she was gracious and humble. She's actually friends with Rachel Vincent, so I'm not surprised that Jeaniene was so sweet.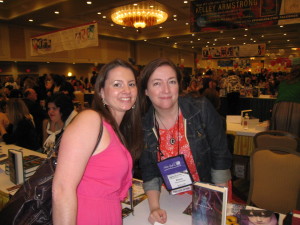 Erica O'Rourke is the author of the Torn trilogy. Torn, the first book in the series was a Golden Heart® winner, and Bound, the third book, was a RITA® finalist. She hugged me twice: first when I told her I loved her books and second when I told her I was a GH finalist. She is a lovely person. I'm sad that she won't be at RWA this summer. I would like to get to know her better.
I leave RT tomorrow. Between my agent & editor appointments and my author stalking, I consider it a success!